SECTIONS | Welcome to the Dancetech-Thomann store.
Synth/sampler/drumbox, sample-CD's, synth s/w
Midiware, sequencers, home keyboards
Rack effects, pre-amps & processors
Monitors, studio mixers/recorders, h'phones, tape
Dj-kit, Pa-gear, small mixers, speakers & amps
Microphones & accessories
Pc/Mac audio/midi h/w & s/w, storage media
Expansion boards, accessories etc
Piano's & organs
Cases & racks & accessories
Top Sellers...
Blowouts...
New Products...
Similar Products...
Ketron Midjay Plus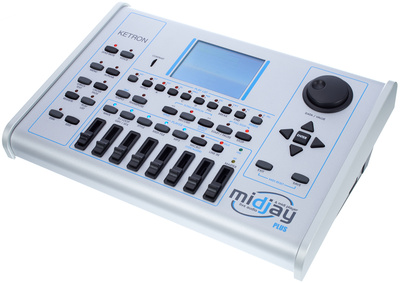 Ketron Midjay Plus audio and MIDI player - over 380 sounds, 32 drum kits, 66 live drums, large LCD display (320 x 240 pixels), 140 styles, compatible with Ketron SD1/SD1 plus and XD series, RIFF function, 200 sound effects, wave/mp3 and MIDI file formats, internal 80Gb hard drive, USB to Device, video interface, MIDI in/out/thru, stereo line out, headphone jack, microphone jack, metronome. Dimensions: 32 x 23 x 11cm. Weight: 3.2kg.
Delivery prices